I'd like to share my experience with DTPO2 in 'Quality Management' in a german doctors office.
For german users: I have posted a bit more detailed german version of this topic here: http://www.devon-technologies.com/scripts/userforum/viewtopic.php?f=22&t=9563
German doctors by the 1.january 2010 are obliged to practice quality management.
We http://www.gastroenterologie-wuppertal.de/
run a group practice of two gastroenterologists and seven medical employees, using ten macs and one computer. We use the software INFORMED http://www.informed-ag.de/, one of the few (two) running on Mac.
We started with a prebuilt solution of our professional association "bng" http://gastromed-bng.de/front_content.php?idcat=158
in cooperation with IT-specialists from ONTIV, a Windows-based solution. After some months of tantalizing approach (Parallels …) we finished that and exported the documents within the folder hierarchy into DTPO2.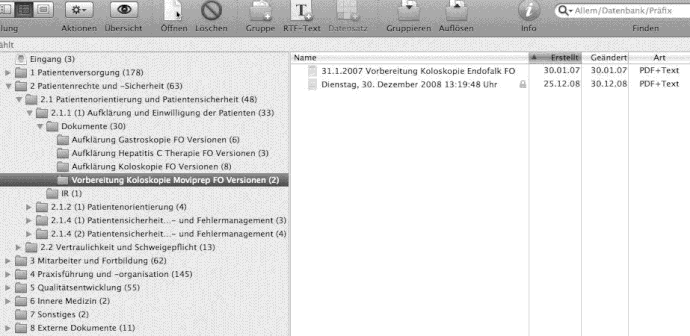 The most important ability of DTPO2 for us is the server. With the server enabled, everyone has easy access to the documents, provided he is capable of handling a web browser. With some smart folders the access to special subgroups has become even more convenient.
Thus the inhibition level for using the documents has sunk dramatically. You just have a look at the documents in case of rare problems, like changing the answering machine before holidays

, or for everyday activities as printing information forms.
For the administrator, the script 'create new version' is extremely valuably, as we are obliged to archive all old versions.
As a texteditor we use 'papyrus office' https://www.papyrus.de/papyrus.htm
because of its ability to provide "Hybrid-pdf"-documents: they can be opened with 'Preview' or Acrobat Reader like every PDF document. But they are still editable within DTPO using Papyprus Office as texteditor (Bill de Ville has mentioned that before in this forum).
Recently we presented our QM manual to ONTIV in order to be shure about compatibility with the solution of our professional association and in case of a certification. Besides some unimportant formalities there was only one unsolved requirement left: it must be guaranteed that nobody could bring an old version into circulation. All old versions must be not printable. As a workaround, I clicked the button "exclude from search" for every old version. Now the search for 'Aufklärung' gives better results and no more old versions appear:
All together, our solution of 'Quality Management' with office DTPO2 and Payprus Office is practicable and reliable and we've got it for a reasonable price. Unfortunately, a wide spread use is not very probable as Macs are not often used in german doctors' offices.