Can't figure out why DEVONthink throws an error and fails to capture a page from Firefox after it has been granted the access in
System Preferences > Security & Privacy > Automation…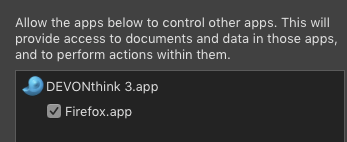 Yet macOS shows the error "Unable to clip from Firefox. Check DEVONthink has rights to access the web browser and that the active tab has a URL."


Though no such problem with other browsers (Safari and Chrome).
I tried below but it didn't help:
diskutil resetUserPermissions / id -u
tccutil reset AppleEvents
same issue on another (new) user account on the same Mac.
deleted and downloaded latest Firefox app and created new profile
Any advice what else I can try to fix this issue with access to Firefox?