Some misc. issues:
• Using View > Columns > … while editing a document field (e.g. started by tapping Tab) can cause the selected item to be incorrectly displayed. For example, adding the Comment column when editing the URL field resulted in this:

And in one case (which I wasn't able to reproduce) it was impossible to cancel the editing.
It might make sense for field editing to be implicitly canceled when adding/removing columns, like what happens when making a View > Sort > … submenu selection.
• When date columns (at least) are too narrow the text "wraps" in a peculiar way, e.g.:

Notice that the top of the time chars are subtly visible under the year. It's more obvious when seen in multiple columns, e.g.: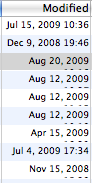 • When Tab is used to invoke field editing the field that's selected can be unpredictable. In that first image above tapping Tab will usually start editing the URL field. And tapping Tab again (or Shift-Tab) doesn't move to the next/previous field as expected; seems to cancel editing.
• The toolbar search field frequently has a focus ring without having input focus. I was noticing it disappear and reappear during the field editing tests above.
Intentionally posting in the Requests & Suggestion subforum, requesting/suggesting those issues be fixed.

Thanks!