Hi all -
I just noticed that my computer has a very large file called "DEVONthink-5.dtMeta". It was last accessed about a month ago.

I revealed it in the Finder, and it turns out that it's inside one of my DT databases. Moreover, there appear to be THREE identically named such files in the same database, each of which is huge. All of the files are inside folders named 'Backup' of one sort of another. Most of the other files in those folders are much smaller, but altogether it's a lot of space.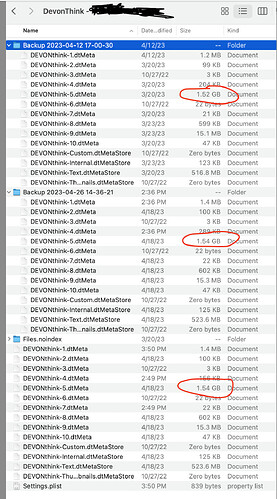 This 2014 post suggests that these "DEVONthink-5.dtMeta" files might just be "orphans." But that post is from so long ago that I know I should check again for the latest. Can I just delete these "____.dtMeta" files? They're eating a ton of space. Any thoughts most appreciated!
[EDITED: to reflect that I've now found three such files.]