EDITED 2020.03.11: lastest update posted here.

I know that the experienced MD user will suggest using the special keys cognitively. As a beginner in MD and as a user who is used to format my note after the typing, I still want to have a quick utility script. Not trying to suggest this is a better way for anyone, I simply enjoy programming and to try different methods. I also hope that some of the codings can be useful for other users.
I assign this script to a shortcut (in fact, I then assign it to a magic mouse gesture by linking BTT with that shortcut - complicated!).
(1) If the user is in a markdown file and has some text selected, the script will show this: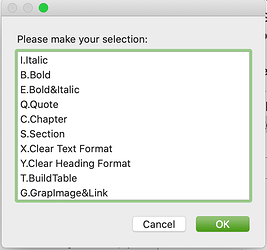 I select the text to be formatted and activate the script. I can format the text by just type in the index letter and hit enter without looking at the list box. I am aware that this is not the "markdown" way - but this method is more consistent with the way I use RTF.
(2) If the user is not at a markdown file, or no text is selected in the markdown file, the script will show this:
(2.1) The "T.BuildTable" will ask for row and col. An empty pattern of a table will be in the clipboard ready to be pasted. I believe that it will be faster just to type out the table for experienced markdown user. Just try to leave a function here in case of my need.

(2.2) For "G.GrabImage&Link. The user can just select and capture an area and hit enter. The captured image will be saved with a unique name in a group that is defined in the script (same name for each database). A markdown image link will be in the clipboard, to be pasted into the md file. This link is the least flexible type "![](dt item link)" (according to @bluefrog)- but it serves the basic purpose.
Nothing fancy. Just trying to see if I can/should make the switch into markdown.
use AppleScript version "2.4" -- Yosemite (10.10) or later
use scripting additions

-- By Ngan 2020.03.02

property theStyle : {"I.Italic", "B.Bold", "E.Bold&Italic", "Q.Quote", "C.Chapter", "S.Section", "X.Clear Text Format", "Y.Clear Heading Format"}
property theFunction : {"T.BuildTable", "G.Grab&Link"}
property imgAssetsLoc : "/Image Asset"

global theDoc

tell application id "DNtp"
	
	set theDoc to content record of think window 1
	set theDocLoc to location of theDoc
	set theImgAsset to get record at imgAssetsLoc
	
	
	if (type of theDoc is markdown) and (exists (selected text of think window 1)) then
		set theList to theStyle & theFunction
	else
		set theList to theFunction
	end if
	
	set theChoice to (choose from list theList with empty selection allowed) as string
	set theChoice to text 1 of theChoice
	
	
	if theChoice is "I" then
		set (selected text of think window 1) to "*" & (selected text of think window 1) & "*"
	else if theChoice is "B" then
		set (selected text of think window 1) to "**" & (selected text of think window 1) & "**"
	else if theChoice is "E" then
		set (selected text of think window 1) to "***" & (selected text of think window 1) & "***"
	else if theChoice is "Q" then
		set (selected text of think window 1) to ">" & (selected text of think window 1)
	else if theChoice is "C" then
		set (selected text of think window 1) to "### " & (selected text of think window 1)
	else if theChoice is "S" then
		set (selected text of think window 1) to "#### " & (selected text of think window 1)
	else if theChoice is "X" then
		set (selected text of think window 1) to my trimText(selected text of think window 1, "*")
	else if theChoice is "Y" then
		set (selected text of think window 1) to my trimText(selected text of think window 1, "#")
		
	else if theChoice is "T" then
		activate
		my buildTable()
		return
	else if theChoice is "G" then
		my grapImgandGetMDLink()
		return
	end if
	
	
end tell

on buildTable()
	local numRow, numCol, theHD1, theHD2
	tell application id "DNtp"
		
		set a to text returned of (display dialog "Row, Col" default answer "3,3")
		
		set numRow to (item 1 of my strToList(a, ",")) as integer
		set numCol to (item 2 of my strToList(a, ",")) as integer
		
		set {theHD1, theHD2, theCol, theRow} to {" ", " ", " ", " "}
		
		repeat numCol times
			set theHD1 to theHD1 & "   |"
			set theHD2 to theHD2 & "---|"
		end repeat
		
		repeat numCol times
			set theRow to theRow & "   |"
		end repeat
		
		set theCol to ""
		repeat numRow times
			set theCol to theCol & return & theRow
		end repeat
		
		set the clipboard to theHD1 & return & theHD2 & theCol & return & return
		display alert "paste the layout to the  file" giving up after 1
	end tell
end buildTable

on grapImgandGetMDLink()
	
	
	set dateSting to (short date string of (current date)) & "." & (time string of (current date))
	set dateSting to my findAndReplaceInText(dateSting, ":", ".")
	set dateSting to my findAndReplaceInText(dateSting, "/", ".")
	
	do shell script "screencapture -ci"
	
	tell application id "DNtp"
		set theImageFile to paste clipboard to (get record at imgAssetsLoc)
		set the name of theImageFile to dateSting
		set theLink to reference URL of theImageFile
		set the clipboard to "![](" & theLink & ")"
		
	end tell
end grapImgandGetMDLink

on strToList(thestr, d)
	local theList
	set {tid, text item delimiters} to {text item delimiters, d}
	set theList to every text item of thestr
	set text item delimiters to tid
	return theList
end strToList

on trimText(theText, theTrim)
	set AppleScript's text item delimiters to the theTrim
	set the item_list to every text item of theText
	set AppleScript's text item delimiters to the ""
	set theText to the item_list as string
	set AppleScript's text item delimiters to ""
	return theText
end trimText

on findAndReplaceInText(theText, theSearchString, theReplacementString)
	set AppleScript's text item delimiters to theSearchString
	set theTextItems to every text item of theText
	set AppleScript's text item delimiters to theReplacementString
	set theText to theTextItems as string
	set AppleScript's text item delimiters to ""
	return theText
end findAndReplaceInText