Inspired by @Solar-Glare's topic DTTG - Update sheet action in Shortcuts added.
The shortcut
logs current measurement with date
calculates and logs debit from last measurement
marks overspending by red — you define your threshold (limit) of debit in dictionary in beginning of shortcut
Installation
Get the shortcut — Water Meter with debit control
Create markdown form "Water Meter Log.md" with the following content:
![Water meter # 1](https://www.balkanplumbing.com/wp-content/uploads/old-water-meter.jpg)

| Date | Measurement | Debit |
|:--|--:|--:

IMPORTANT: No empty line after |:—|—:|—:
IMPORTANT: Previous measurement stores in Comment property of Water Meter Log file — put there a number.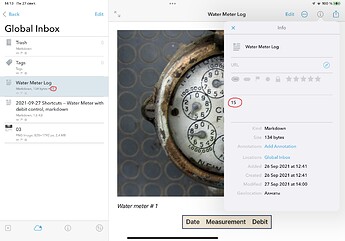 You can use multiple meters, so you can put a picture for every meter's markdown-log.
You can adjust Date format as you want — with or without time, in YYYY-MM-DD and so on.