Not sure this is a DT bug.
Do the following: in calendar double-click an appointment, opening the info-window for the appointment. Drag a pdf from DT global inbox and drop it in that window. Expected behaviour: the pdf will be dropped into the window and attached to the appointment. Actual behaviour: after a delay, a series of unrelated names, phone numbers and seemingly random numbers (see screenshot) appear.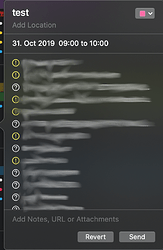 If in DT I right-click the pdf and select "show in finder" and then drop the same pdf directly from the finder, things work as expected.
(using 10.15.1 and 3.01)