I just finished making a way to automatically extract only new PDF annotations.
However, the smart rule I made doesn't work as well as I'd like: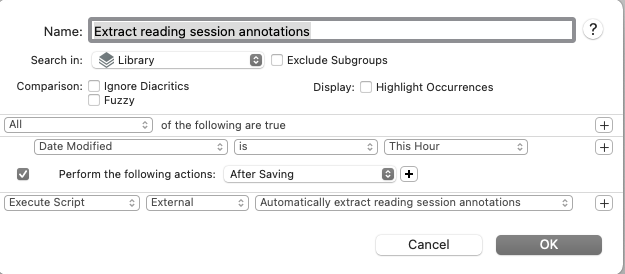 Namely, it's hard to make it fire only after I'm finished with a file, not while I'm working with it.
Ideally I could set up conditions like:
Date modified is This Hour
Date modified is not in the last 15 minutes
If I'm working with something, I generally make some kind of change to the file at least every fifteen minutes. So the conditions above would fire on a record that has been "put down," so to speak, but not before.
The "Perform actions after saving" thing kind of works, except many apps like to save often, so I find the rule fires often.
I feel like I'm missing something obvious here. Granted, everyone will have subtle differences in what it means to have "finished with" a file, but I'm hoping I can learn from someone else to apply to my use case.