Hello all,
Weird thing happening presently. Just moved DT3 over to a new machine – and experiencing one or two oddities.
On the old machine, my shortcut for "Take Note" was Cmd+Opt+Ctrl+Shift+6 (Hyperkey+6).
When I try to do the same on the new machine, I get met with the following: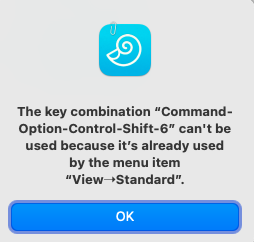 So it seems to disregard all the additional key-combinations, and reads it as conflicting with CMD+6, from the View menu/Standard option (as below)?
That can't be right? Any suggestions?